Grand Soleil 37
The design brief from Cantiere del Pardo was for a maximum volume without compromising performance, in conjunction with the desire for the boat to be esthetically outstanding in the future as it is today. High on the list of priorities was for the boat to be easy to handle, to allow short handed sailing and tight manoeuvres to become child's play.
The Grand Soleil 37' has been designed with a higher stability rating than required by EC rules, which establish levels of stability intended to make new yachts safer when facing adverse conditions.
The result is an elegant, classic looking yacht with moderate freeboard, smooth hull lines, fast and sea-kind under all conditions. Her generous beam provides stability and power for the on-wind speed, while the carefully rounded shape of the aft body geometry enhances high performance running.
The Grand Soleil 37' will not disappoint discerning sailors on the club racing side, but at the same time makes fast cruising even more enjoyable than ever before.
The designers firmly believe the Grand Soleil 37' will provide a new level of harmony and balance between performance and comfort in a modern medium displaced cruising yacht. The spacious below decks accomodation coupled with the building quality and attention to details is synonimous with Cantiere del Pardo and means that this yacht represents unsurpassed value. In 1997 the Grand Soleil 37' was voted "Yacht of the Year" in Germany by the European magazine "Yacht".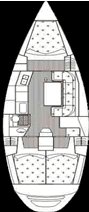 klik op een plaatje voor de vergroting