Lavezzi 40
Lavezzi 40, the new reference in cruising catamarans... This new model emphasises yet again the technological and architectural lead of Fountaine Pajot, the world's leading builder of cruising catamarans. Innovative ergonomics and movement...
The saloon and cockpit open on to each other with large sliding door and window making for remarkable ventilation and easy use of the galley whether you wish to eat inside or outside.
The centrally-accessed cockpit features a rest area close to the helm station as well as a dining area, with comfortable seating for 8 people.
The helm station has a deflector, which has already been put to the test, effectively protecting the person at the helm.
An innovative saloon... The galley is on the port side, which leaves a lot of space for the table and bench seating, with enough room for 8 people. The saloon of the Lavezzi 40 features spacious cupboard space in the galley and for the new chart table. The instrument panel has been incorporated into a user-friendly display. Wood is very present inside the saloon : The woodwork of the chart table, galley, saloon table and the wood flooring combine to make the saloon luminous, with a warm atmosphere and an overall finish of great quality.
Optimal comfort for all the cabins - To avoid noise levels in the cabins, the engines have been installed in the aft holds which are independent from the cabins. They can be accessed easily for maintenance purposes without any noise or unpleasant odors in the cabins. H The beds are extra-wide (2m x 1.40-1.50m) compared to other boats of the same size. n The new white ceilings contribute to the overall impression of light and volume. Each cabin is ventilated with a forward-facing overhead hatch and sidescuttle, both of which can be opened.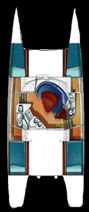 klik op een plaatje voor de vergroting