Sun Odessey 45.1
An added dimension to cruising sailboats. Built in the genuine Jenneau tradition, the SUN ODYSSEY 45,1 is one of the brightest jewels of Jeanneau is SUN ODYSSEY line on cruising sailboats. Designed to stand up to all that the sea can deliver , this impressive sailboat presents the harmonious cumbered deck lay out make for a majestic titan of the seas.
The cockpit , divided into 3 sections, is large and clean, ideal for all types of use. The teak-battened stern skirt is wide and deep, and has two swinging doors for quick and easy stern entry. Then there are the twin wheel helm stations. Finally the folding cockpit table and long comfortable seats for those on watch. Plus there is lots of accessible storage in two bog sail lockers plus a big watertight compartment towards the stern.
The interior of the SUN ODYSSEY 45,1 is a prime example of quality and comfort. Available in a (4 cabins /2 heads) lay out , there are a number of noticeable refinements. Standard below is an immense navigation station, bookshelves, lots of storage compartments, a big galley with a expansive countertop, and a huge saloon that seats up to 10 people around a stately table for a arm and cozy atmosphere. The spacious head compartment is equipped, along with the standard equipment, with shielded shower area and teak floor for comfort and safety..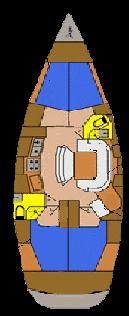 klik op een plaatje voor de vergroting