SYLPHE
a rare classic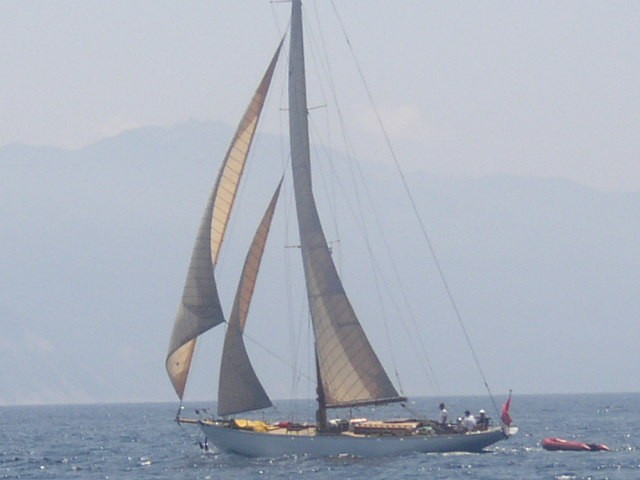 She was built and designed in France, by the wellknown designer André Mauric (later involved in the design of the Pen Duicks for Eric Tabarlay). She was built for a Frenchman called Mr. Paul Blanchet. The construction started in October 1940 on "Chantier de Pharo" in Marseille. Because of the war it took untill 1947 till she was put in the water. SYLPHE was designed to compete under the RORC rules of that time. A popular class in the 1930's, all different yachts in size and sailplan, but due to a handicap system, they were able to race against each other. When the RORC rules changed again in 1953, Sylphe was fitted with a taller rig and the small bowsprit, with which she still sails today.

SYLPHEs early days were not so very fortunate. The yacht had almost finished construction when the war started and the germans invaded France. The french yard, under the direction of Andre Mauric, decided to sink Sylphe in the Marseille harbour!!! The reason was very simple: would the gremans have found Sylphe, they would have for sure taken the 13 tons of lead that make up the keel of SYLPHE and rendering the boat and the value useless. Nobody in Marseille ever said a word to the germans and this probably meant the survival for the yacht. After the war the boat was lifted out of the water, the mast put on and she started sailing for the first time in 1947. Sylphes wooden hull is seasoned.

A yacht that always draws attention and makes faces turn in the direction of her mooring or passage.
After her 1999/2000 restoration she has been brought back to the glorious state of her early days. The enormous flush-deck gives one the feeling of space and comfort. Easy to walk forward to change a sail. Relaxing and sunbathing on this forward deck is a must. Her wooden mast of 23 meters still has the original winches for hoisting sails, and NOT to mention the unique and one-design winches in the cockpit would be a shame...........
Below deck there is a spacious salon, navigation corner, shower/toilet, galley and 2 cabins, with each a full size double bed. With her new interior layout in warm cherrywood, modern comfort, safety equipment and navigational aids, she immediately gives one the feeling of safety and being home.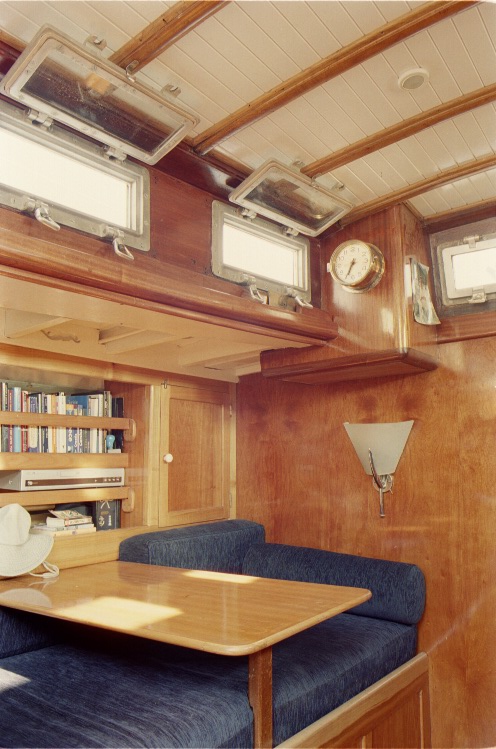 Specifications



Length over all : 18.50 meters, length over deck : 17.25 meters, length on waterline 12.68 meters
Beam : 3.95 meters, Draft : 2.50 meters
Mast length : 23 meters, 21 as of deck level
Sail area : Main 84 m2, Staysail 34 m2, Yankee 29 m2, Genua 78 m2, Spinnaker 205 m2, Reacher 105 m2
Accomodation : 2 Cabins (each with a doublebed), shower, toilet, kitchen, refridgerator (48 h autonomy), 600 liters of fresh water, spacious living room and skippers bunk
Propulsion : 76 HP Yanmar engine, giving a cruising speed of 7 knots, 260 liters of diesel.
Instruments: : B&G log/depthsounder, B&G Hydra 2000, Comnav Autopilot, 2x GPS, B&G Windmeter (direction, closehaul and speed), VHF, SSB radio, Sestrel compass, binoculars, maps, pilots, etc,. 2 x CD/Stereo (saloon (with deckspeakers) and in mastercabin).
Deck gear : Comfortable cockpit, deckshower with fresh water, deckwash with salt water, liferafts, 4 principal winches in cockpit, running backstays, 7 winches on mast and boom (1 electric Lewmar winch), zodiac with 10 Hp Yamaha, suntents, etc, etc